Recent Releases We Almost Missed, Vol. XIX – Holiday Shores, Boats, Frisk Viljor, Chris Letcher, Alpine White, BlueJuice, Lightouts
Posted by admin on 11/12/11 • Categorized as 2011 Releases We Almost Missed
Holiday Shores released their sophomore album on September 13th
This playlist mix features 50 singles from Recent Releases We Almost Missed. We think you'll really enjoy this mix, especially if you stream it once all the way through from start to finish – there are some fantastic songs in this mix that are barely known at all. There's no shortage of wonderful music that we want to share with you that otherwise would have slipped through the cracks created by the constant movement of mountains of music that build up throughout the year.
If you're not familiar with this particular series, we definitely encourage you to browse the past mixtape playlistsfor Recent Releases We Almost Missed – a lot of people say they discover some great music that they otherwise would have never heard through this series, and we're totally down with that because that's why we carefully pick, and post, the songs we do. In the end, it's usually a win-win-win, and those are rare in this life; so, we'll take one of those combos wherever we can get 'em.
This RRWAM mixtape series was born out of necessity. Last year, we needed a functional way to present standout lead tracks from albums that we did not know about until after they were released, or in some cases, that we just missed posting during the week of their official release. Furthermore, we're sometimes using the world "recent" pretty loosely – but the one constant is that the songs chosen are good enough to post to 20,000 visitors a day. This is one of our favorite playlist mixes because we get to listen more closely to the tracks featured in each RRWAM special mixtape.
The popular Recent Releases We Almost Missed, or RRWAM (Rah-Wam), series has been chugging along since its debut in 2010, and was one of the most listened to, and downloaded, series of all, along with Top Ten Songs,Best New Releases, Fresh Tracks, In Dee Mail and others.
The fact that we initially missed Holiday Shores' newest album when it was released on September 13th is just inexusable, but that's what this mixtape series is for – to make amends for notable singles and albums that we missed when they were originally released.  It's interesting to us that Holiday Shores did not hit it as big in 2010 as so many other new indie bands did,  even though HS was getting plenty of blogger buzz, and even mainstream music press. Somehow, there were just too many other great, emerging bands to compete with in 2010. Oddly, the band have not achieved much more recognition in 2011, especially with the fresh release of New Masses for Squaw Peak. But then again, we didn't help by missing the original release date. Nonetheless, the two singles featured below are perfect tracks to represent the band's sophomore album release.
"Spells" – Holiday Shores from New Masses For Squaw Peak – Sept. 13th
"Threepeat Got Old" – Holiday Shores from New Masses For Squaw – Sept. 13th
Indie quirk pop band, Boats, released their latest album, Cannonballs, Cannonballs, in August, and we definitely missed it for that week's (August 16th) Best New Releases mix. The track "TV Scientist" is one of the best song of the second half of 2011. If you dig the track, then you'll probably want to get your hands on the album too.Friska Viljor's rarely heard track, "What You Gonna Do?" is incredibly catchy and upbeat. Plus, check out new singles from recent releases by Chris Letcher, The Asteroid Shop, Alpine White, and the brilliant acoustic guitar instrumental from Glenn Jones.
"T.V. Scientist" – Boats from Cannonballs, Cannonballs – Aug. 16th
"What You Gonna Do?" – Friska Viljor from The Beginning of the Beginning of the End – March 21st
"People Beat" – Dead Western Plains from Compilation for Victims of the Tuscon Tragedy – Oct. 18th
"Twin Finns" – Chris Letcher from Spectroscope – Sept. 20th
"Dandelion" – The Asteroid Shop from The Asteroid Shop – Oct. 4th
"When She Gets Home" – Alpine White from The Hale EP – Nov. 1st
"Of It's Own Kind" – Glenn Jones from The Wanting – Sept. 13th
Bluejuice is an interesting collaboration among producers, engineers and mix specialists who have worked with bands like Weezer, New Order, The Kooks and Muse. The collaboration, which is officially named The Bluejuice Consortium, asked music lovers want they wanted most from an album. The answers ranged from 'angst' to 'melody' and 'dance.'
That was enough for the five R&D guys of Bluejuice to bring together producer Eric J. Dubrowsky (Weezer) and London mixologist, Adrian Bushby (Muse, Kooks, New Order), among others. All of this led to the October 28th release, Company – their third album. Here's the first single from the album, "Cheap Trix." Another track that we don't want you to miss is the new single from Caged Animals, "Teflon Heart." We really like it because it's a bit different, with its kind of Cars mixed with the Killers [or insert your own 'sounds like' description here] sound and style. Plus, take a trip back in time with the raw, doo-wop styling of Shimmering Stars' "I'm Gonna Try" from their recent album Violent Hearts. You can bet that we have put The Daredevil Christopher Wright band on our radar thanks to the brilliant track included below, "The Animal of Choice" from their self-released EP, The Longsuffering Song.
"Cheap Trix" – Bluejuice Consortium from Company – Oct. 28th
"Teflon Heart" – Caged Animals from Eat Their Own
"I'm Gonna Try" – Shimmering Stars from Violent Hearts
"The Animal of Choice" – The Daredevil Christopher Wright from The Longsuffering Song
This next band, Bear Lake, we didn't really miss. In fact, we featured them in this week's Best New Releases. But since we love their DIY, self-released album, If You Were Me, so much, and just got our hands on a third single, we had to include it.  If you like the two tracks published earlier this week, plus the third track below, than you'll want to get what is becoming one of our favorite DIY albums of 2011. Oh yeah, as if we needed another band with an animal in their name – what is this fascination musicians have with naming themselves as animals? Taking theories, if you have one.
"Breaking Me Down" – Bear Lake from If You Were Me
"Gravity Will Break Our Bones" – Bear Lake from If You Were Me
One of the top breakout indie bands of 2010, Best Coast, released a not-so-widely heard single, "Gone Again," in June. The track was the band's contributions to this summer's Adult Swim Singles Series. Also, while we're on the subject, of Adult Swim, download its free electronica sampler, Unclassified.  A perfect follow-up to "Gone Again," is the latest single from The Morning Clouds, the dreamy "A Walk Home" from their new EP, Wasted Youth Blues.
"Gone Again" – Best Coast, single from Adult Swim Singles Program 2011 – June 14th
"A Walk Home" – The Morning Clouds from Wasted Youth Blues EP – Oct. 11th
Lightouts has really been gaining a following in the past year and for good reason. We originally featured Lightouts on IRC earlier this year following the release of the band's latest album, which we like very much, and will definitely be on our Best Debuts of 2011 list. Anyways, the band recently released a new single – a double cover mix of LCD Soundsystem and David Bowie.  The rarely heard Way Yes track, "Automail," is ridiculously upbeat and infectious – is it possible not to want to get up and shake it up listening to this world beat classic (at least as far as the world music we've heard in 2011)? Don't think so. Plus, equally terrific tracks from Best Coast, The Ettes, and Little Gold.
"All I Want/Heroes" (LCD Soundsystem/David Bowie) – Lightouts from The Eloise Suite  – Aug. 23rd
"Automail" – Way Yes from Oranjudio – Aug. 9th
"Bodies Coasting" – Chappo from Plastique Universe II: Pisces Princess – Aug. 15th
"My Heart" – The Ettes from Wicked Will – Oct. 26th
"Sisters and Friends" – Little Gold from  Weird Freedom – Aug. 23rd
It's always cool to hear something totally different, daring and just plain ole whacky. Our award for the coolest cinematic music we've heard in a while goes to Elephant Goes West, a Woodridge, New Jersey indie rock band that obviously doesn't take itself too seriously.  Plus, Sleeping in the Aviary, Tennis System, The Handcuffs. Also, Ki:Theory (a.k.a. Joel Burleson), recording artist and producer, walks the tightrope between electronic and indie/alternative rock, and is best known for his remixes for Daft Punk, Queens of the Stone Age, Ladytron, and Brazilian Girls.
"Holiday Heart" – Ki:Theory
"Whirling Dervish (Theme from Everytown)" – Elephant Goes West from Elephant Goes West – Sept. 1st
"Talking Out of Turn" – Sleeping in the Aviary from You and Me – Sept. 6th
"Arcane" – Tennis System from Teenagers – Oct. 18th
"Baby, I Love You" – The Handcuffs from Waiting for the Robot – Sept. 8th
The following is another release that we didn't necessarily miss when it came out, but which we have had more time now to listen to. The band Priory released their debut, self-titled album on June 21st, pretty much under the radar, in comparison to their talent. Still, the band has received a healthy dose of blogger buzz in recent months that any aspiring artist would be slap-happy to get in today's saturated world of music.
"Kings of Troy" – Priory from Priory – June 21st
While all of the singles – and usually the albums they came off of as well – featured in RRWAM mixtapes are carefully picked because they should not be missed, sometimes there are others that should have never been absent from the Best New Releases for the week they were released. Such is the case with the latest release from the band Pomegranates, In Your Face Thieves/Chestnut Attic.
The first track, "Softness," is somewhat name appropriate – because it's a soft, sort of dreamy, song with a bit of a tempo, somewhat nasally vocals, and definitely one of the few stand out tracks on the album. The melancholy, "Morrocco Girl," is a stripped down, no frills folk song with just an acoustic guitar and mellow lead vocals. The song's central contrast – the semi-50′s style choruses – is what also helps the song sound more full.
"Softness" – Pomegranates from In Your Face Thieves/Chestnut Attic
"Morroco Girl" – Pomegranates from In Your Face Thieves/Chestnut Attic
Steel Phantoms infectiously upbeat "Bedouin" was the obvious lead track from their July EP release, Forer, andHussy delivers the raw, imperfect contrast to Steel Phantoms with the gritty garage rocker "Sexi Ladi."
"Bedouin" – Steel Phantoms from Forer EP – July 29th
"Sexi Ladi" – Hussy from Sexi Ladi – May 3rd
Shifting gears once again, listen to The Duke and The King's interesting mix of R&B, soul and even alternative country sensibilities on "Shine On You," from the August release of the band's self-titled debut LP. Next, Detroitgarage rock band Almost Free add even more eclectic flavor to this mix with their alternative, semi-goth rock of "Don't Bother Me Now," followed by the thumping bass line and layered harmonies of Hooray For Earth's "No Love," the band's first single off their newest LP, True Loves. HFE has been on our radar since breaking out with their wonderful 2006 debut; it's almost hard to believe it took that long to get an LP out.
"Shine on You" – The Duke & The King from The Duke & The King – August 16th
"Don't Bother Me Now (Adultescent)" – Almost Free from In/Out – June 7th
"Big" – Parentz from Big – Sept. 6th
"No Love" – Hooray For Earth from True Loves – June 17th
"Drip From The Sea" – High Pop from Drip From The Sea – Sept. 20th
"Parking Lot" – Jonny Lives from Revolution For Free – Sept. 27th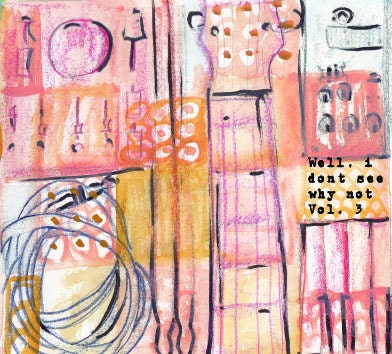 Other tracks include the haunting alternative-goes-jazzy-goes-psychedelic from Firs of Prey, followed by the wandering ruminations of "No Worries" by Family Lumber; the semi-road tripping track, "Waiting for Saints to Arrive" by Company; the Prince-sounding, "Swear" by Inc., and other fantastic tracks by Soley, The Trews, Locksley, Metronomy, Mr. Gnome, The Reveling, and The Unsacred Hearts. And, so many other songs that speak for themselves. 

"What You Say" – Firs of Prey from Well, I Don't See Why Not Vol. 3 – May 26th
"No Worries" – Family Lumber from Look to the Sidelines EP – Aug. 9th
"Waiting for Saints to Arrive" – Company from Holy City – May 26th
"Left at Forkright" – The Reveling from Black Numbers – June 21st
"Ideas to Use" – Gardens from Gardens – Aug. 15th
"Swear" – Inc. from 3 EP – July 26th
"I'll Drown" – Soley from We Sink – Sept. 2nd
"Sometimes" – The Banana Splits from Mr Sam Presents The Bandana Splits – Aug. 16th
"Bit the Tongue" – Mr. Gnome from Madness in Miniature – Oct. 25th
"One By One" – The Trews from Hope & Ruin – April 12th
"Flesh and Bone" – The Unsacred Hearts from The Honor Bar – July 8th
"The Whip" – Locksley from Locksley – July 26th
"The Look" – Metronomy from The English Riviera – July 26th